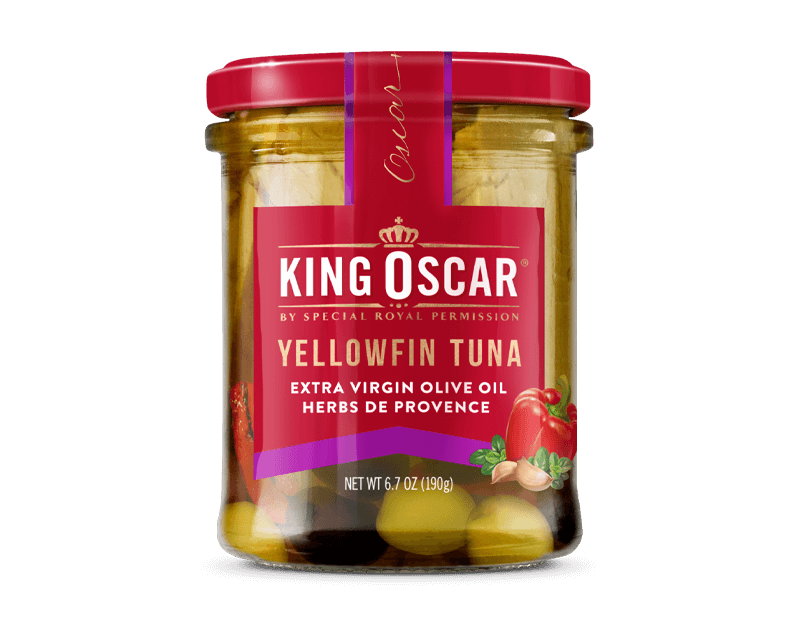 Yellowfin Tuna in Extra Virgin Olive Oil with Herbs de Provence
Enjoy the ultimate royal tuna taste experience, with the rich flavors of the sunny Mediterranean! Finest quality yellowfin tuna fillets marinated in top-grade extra virgin olive oil with all-natural, gourmet roasted bell peppers, green and kalamata olives, and a proprietary blend of herbs and spices for indulgent taste. Wild-caught, dolphin-safe, backed by SeaChange® for sustainability. Special "easy pour" jar design for perfect whole fillets. Delicious in salads, with pasta, or on open-face sandwiches, adds exciting flavors to a charcuterie board! Try the extra virgin olive oil as part of your salad dressing or pasta sauce. You can even pour the flavor-infused oil and spices into a saucer, add some balsamic vinegar, and use as dip with fresh-baked bread!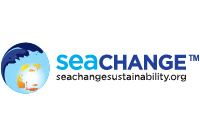 Ingredients & Packing
Yellowfin tuna fillets, extra virgin olive oil, roasted red bell peppers, pitted green and black olives, garlic, herbs of Provence (spices), salt.
Available in 6.7 oz (190g) recyclable, "easy pour" glass jars.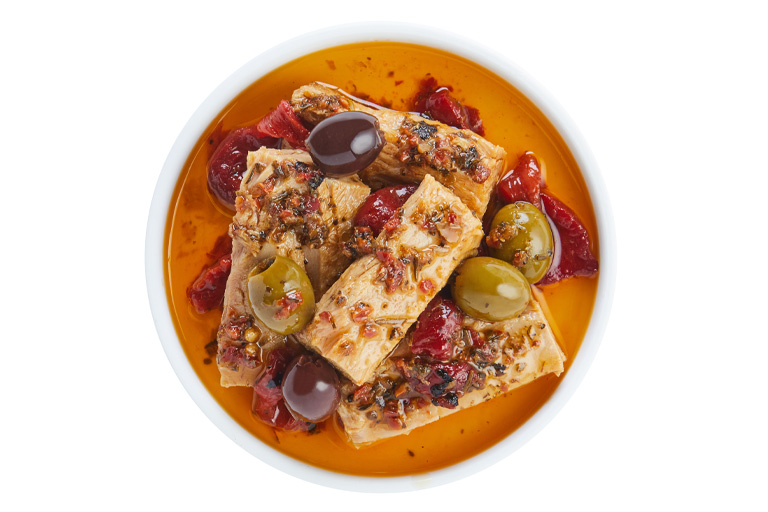 NUTRITION INFORMATION
| | |
| --- | --- |
| Serving size | 1 jar drained (117g) |
| Servings per jar | 1 |
| Calories | 230 |
| Total Fat | 15g (19%)* |
| Saturated Fat | 2g (10%)* |
| Trans Fat | 0g |
| Cholesterol | 20mg (7%)* |
| Sodium | 930mg (40%)* |
| Total Carbohydrates | 2g (1%)* |
| Dietary Fiber | 2g (7%)* |
| Total Sugars | <1g |
| Includes 0g Added Sugars | (0%)* |
| Protein | 22g |
| Vitamin D | 0%* |
| Calcium | 2%* |
| Iron | 6%* |
| Potassium | 8%* |
| *The % Daily Value (DV) tells you how much a nutrient in a serving of food contributes to a daily diet. 2,000 calories a day is used for general nutrition advice. | |
| Please see actual packaging label for most relevant nutrition information. | |
STORAGE & HANDLING
See best before date printed on jar label. Once the product has been opened, it can be stored refrigerated in an air-tight container for up to two days.
FISHING INFORMATION
Wild caught using purse seine nets in the Pacific and Atlantic Oceans, South America.
Recipes with Yellowfin Tuna
An "ocean charcuterie" board like no other! Add King Oscar's indulgent tuna fillets to your appetizer platter for a royal taste experience.
Decadently rich tuna flavor and totally dramatic presentation combine for a distinctive salad sure to impress taste buds and guests!
Sliders are go-to summer grill wonders. This seafood variation adds year-round rich flavors and cuts cook time with out-of-the jar convenience!