Bisphenol-A (BPA) is an industrial chemical often used in hard plastics, including drinking bottles, food packaging and can liners, and hygiene products. In medical research studies, BPA has been linked to several health problems, including infertility, obesity, heart disease, and cancer. Since BPA is now considered ubiquitous in trace amounts in the environment, no company can legitimately state that their products are "100% BPA-free." However, King Oscar takes every reasonable measure to protect your health and all our cans are certified BPA-NI; ie, "BPA Not Intended" in the formulation of their materials.
For your assurance, King Oscar regularly tests our products for a broad range of contaminants, including bisphenols, phthalates, PCBs, and heavy metals. We are happy to say that King Oscar seafood products meet or exceed stringent standards for food safety as determined by the US Food and Drug Administration, as well as the EFSA in Europe. As always, King Oscar encourages consumers to speak to their medical professionals regarding diet and health. We hope this information helps you enjoy your seafood favorites even more!
Gluten is a protein commonly found in many types of grains (specifically wheat, barley, oats and rye). Gluten is not inherently bad for most people, however it does cause allergic reactions and digestion issues for some. All of King Oscar's products are gluten-free and are processed in facilities that do not handle any ingredients known to contain gluten.
Yes, almost all of our products are certified kosher. Our new Yellowfin Tuna products have not yet obtained kosher certification. Additionally, our Brisling Sardines in Extra Virgin Olive Oil product has the extra distinction of being certified Kosher for Passover before and during the Passover holiday and our Skinless & Boneless Sardines in Olive Oil and Skinless & Boneless Sardines in Water products are certified Kosher for Passover year-round.
Same as always, the "sprattus sprattus" used for our Brisling Sardines products are wild-caught in Norway's ice-cold, pristine fjords and coastal waters. They are then transported on ice to our state-of-the-art production facility in Gniewino, Poland, for production. International packaging law mandates that we state the country of production, not of fishing origin. This same packaging law applies to all of our products.
King Oscar uses tiny brisling sardines for our Single Layer varieties (8–12 fish per can), even tinier extra small brisling sardines for our Double Layer varieties (12–22 fish per can), and the very tiniest brisling sardines available for our Cross-Pack variety (24–38 fish per can). In fact, the fish used for our Cross-Pack Brisling Sardines are so small we can pack then in two layers cross-wise, against the width of the cans.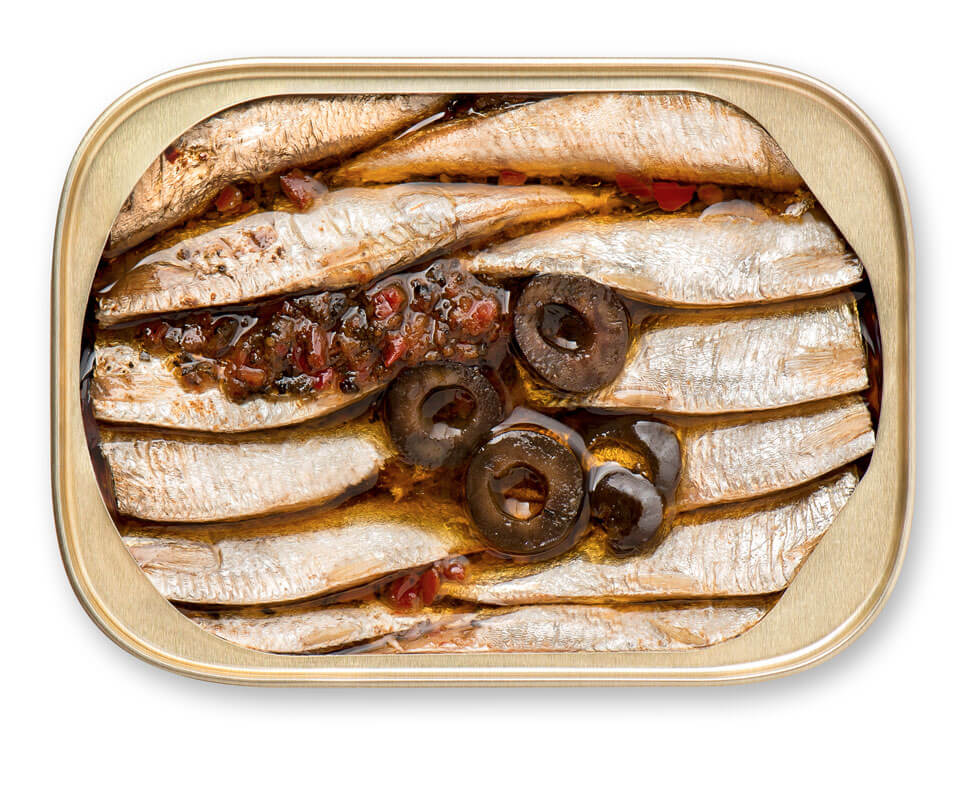 For great taste, King Oscar Anchovies are cured in brine for 4 to 6 months but are not cooked or pasteurized during processing and contain no additives or preservatives. As such, they are semi-perishable and more susceptible to higher temperatures in transport and storage. For best quality and shelf life, King Oscar Anchovies should be stored in a cool place, preferably refrigerated, even in the unopened cans. King Oscar Anchovies should appear as distinct, firm fillets in clear oil, not mushy or cloudy. Always observe "best by" dates and never consume products from bloated cans or products that look or smell off.
Have leftovers? You can put them in an air-tight container and store them in your refrigerator for up to two days.
Tiny fish, natural environment, Norwegian traditions, wood-smoking, and hand-packing, of course! King Oscar has an exclusive on sprattus sprattus netted in Norway's pristine, icy fjords and coastal waters. These brisling fish are among the tiniest used to make sardines anywhere in the world and they offer milder taste and more delicate texture – naturally. The habitat ensures purity, cold temperatures, and ideal feeding conditions for rich fish oil content. Following generations-old Norwegian sardine fishing practices, the brisling are "thronged" or held in the catch nets long enough to allow the natural cleansing of their digestive tracts. In processing, King Oscar lightly smokes our brisling sardines in real oak-wood ovens, improving taste and texture even more. And finally, each and every fish is hand-packed into the tins to assure premium quality and ideal presentation.
Unlike most brands that use larger species of mackerel, King Oscar exclusively uses the North Atlantic scomber scrombus for our Royal Fillets line. This particular species of pelagic mackerel is smaller for milder taste and fantastic texture, forages lower on the food chain for safer consumption, and reproduces more quickly for greater sustainability. We fillet the fish to remove skin and bones. And we pack in pure olive oil, with Mediterranean herbs and spices, with bright citrus, and with spicy jalapeño peppers for versatility.
Yes, all of our products are made from sustainably wild-caught fish. Fishing and living off of the bounty of the sea has been a tradition in Norway for countless generations. Norway has long been a leader in responsible fishery management and this leadership has been at the core of King Oscar's fishing practices as the company has grown internationally. Today, we follow the stringent, science-based guidelines set by the industry's foremost authorities, including the Institute for Marine Research, the International Council for the Exploration of the Seas, and the Marine Stewardship Council.
We fish in the most abundant seas around the world to bring you the finest seafood products available.
| | |
| --- | --- |
| Anchovies | Pacific and Atlantic Oceans off the coasts of Argentina and Peru |
| Kipper Snacks | MSC-certified waters of the Atlantic Ocean (Marine Stewardship Council) |
| Mackerel | North Atlantic between Norway and the Faroe Islands |
| Sardines – Norwegian Brisling | Norwegian fjords and coastal waters (North Sea) |
| Sardines – Baltic Brisling | MSC-certified waters of the Baltic Sea (Marine Stewardship Council) |
| Sardines – Skinless & Boneless | Atlantic Ocean off the coast of Morocco |
| Yellowfin Tuna | Pacific Ocean off Central and South America and Atlantic Ocean between Brazil and West Africa |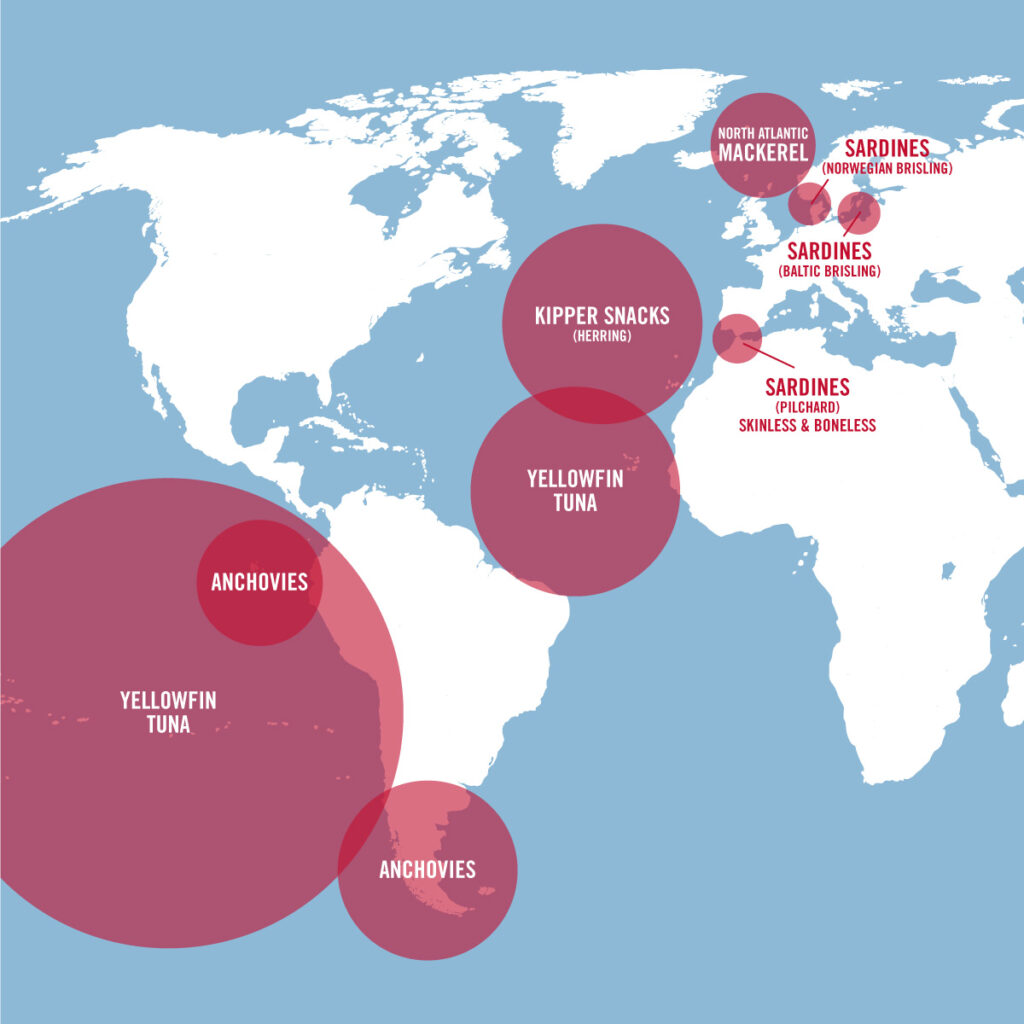 All varieties of our Brisling Sardines (our sardine products with the red foil wrappers) and our Kipper Snacks are lightly and authentically smoked over real wood in our traditional production method. We never use artificial smoke flavoring. None of our other products, including our Skinless & Boneless Sardines (in the carboard cartonettes) is smoked.
Only our Brisling Sardines products intentionally contain bones, which are edible. The extra small fish are so delicate that their tiny bones soften or "melt" during our traditional, authentic wood-smoking process – you won't detect these fine bones at all but you will get the benefits of natural, dietary calcium. The rest of our premium canned seafood products are prepared skinless and boneless for your convenience. Should our expert filleting process leave any bones in a can of your KO favorites, please let us know.
King Oscar is all about bringing you easier, more convenient ways to inspire your taste buds and nourish your body. All of our seafood specialties are ready to eat right out of the can, no cooking required.
The royal line of King Oscar products is distributed in traditional retail stores and online through a range of national and local sellers! Click here to see a list or use our handy product locator below to find all of your KO favorites.
You've come to the right place for seafood taste inspiration! Please click here for a variety of recipes featuring all our fish types and for every occasion, everything from appetizers to salads to main dishes.